Texte français
Sommerliche Musik für vier Gamben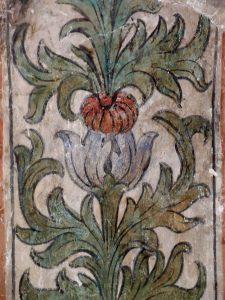 … it is like sitting in a pleasant cool air, in a temperate summer evening, when one may think or look or not, and still be pleas'd.
Roger North (1651-1734), On Music
Dieses Programm ist so leicht und wohltuend wie die im Zitat genannte kühle Brise an einem warmen Sommerabend. Tänze entführen uns in einen blühenden Garten, wo wir die Blumenpracht bewundern und der Nachtigll zuhören können. Ein Schattenplatz lädt zum Verweilen ein. Von weither tönt ein Dudelsack. Im Gras liegend schauen wir zu den Wolken hoch und träumen…
Werke von Purcell, Lawes und Marais sowie Texte und Gedichte von Shakespeare bis Ringelnatz.

Musique estivale pour quatre violes
… it is like sitting in a pleasant cool air, in a temperate summer evening, when one may think or look or not, and still be pleas'd.
Roger North (1651-1734), On Music
Ce programme est aussi léger et bienfaisant qu'une brise fraîche d'été. Des danses nous mènent dans un magnifique jardin fleuri où nous respirons l'odeur des fleurs et écoutons le chant du rossignol. Une place ombragée nous invite au repos. Au loin nous entendons la mélodie d'une musette. Couchés dans l'herbe, nous observons les nuages et nous nous mettons à rêver…
Oeuvres de Henry Purcell, William Lawes, Marin Marais ainsi que des textes allant de William Shakespeare à Joachim Ringelnatz.